Apple today introduced a completely redesigned MacBook Air and an updated 13-inch MacBook Pro, both powered by the new M2 chip — which takes the breakthrough performance and capabilities of M1 even further. MacBook Air takes everything users love about the world's best-selling laptop to the next level. With an all-new, strikingly thin design and even more performance, MacBook Air also features a larger 13.6-inch Liquid Retina display, a 1080p FaceTime HD camera, four-speaker sound system, up to 18 hours of battery life, and MagSafe charging. It is now available in four finishes — silver, space grey, midnight, and starlight. 
M2 also comes to the 13-inch MacBook Pro, the world's second best-selling laptop — delivering incredible performance, up to 24GB of unified memory, ProRes acceleration, and up to 20 hours of battery life, all in a compact design. The new MacBook Air and updated 13-inch MacBook Pro join the even more powerful 14- and 16-inch MacBook Pro with M1 Pro and M1 Max to round out the strongest lineup of Mac notebooks ever offered.
iOS 16
The Lock Screen gets more personal, beautiful, and helpful with iOS 16. With a new multilayered effect, the subjects of photos are artfully set in front of the time on the Lock Screen, creating a sense of depth. Users can also change the look of the date and time with expressive type styles and color choices.
The Lock Screen features widgets that take inspiration from Apple Watch complications, making it easy to get information at a glance, such as upcoming calendar events, the weather, battery levels, alarms, time zones, Activity ring progress, and more.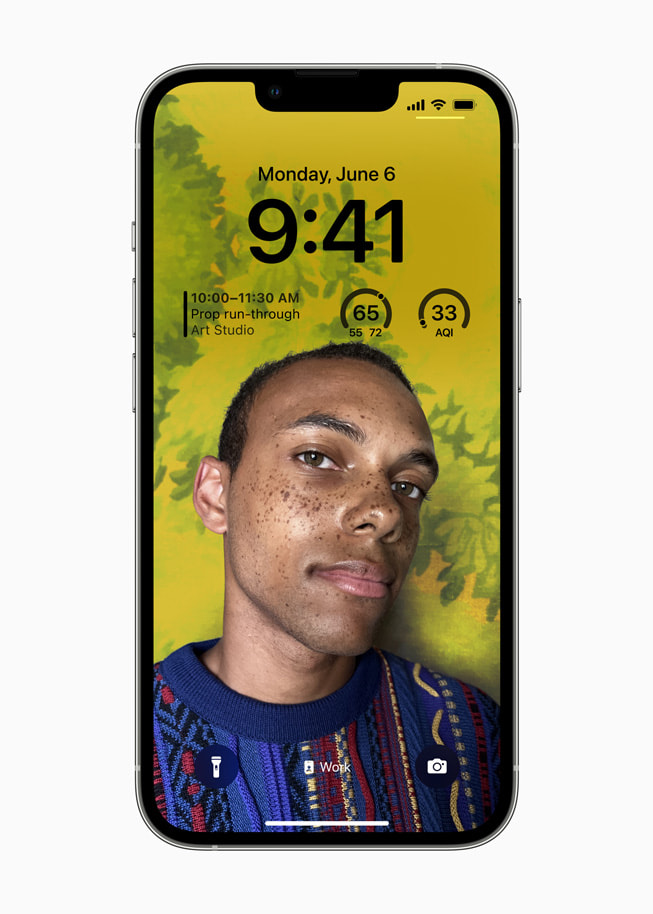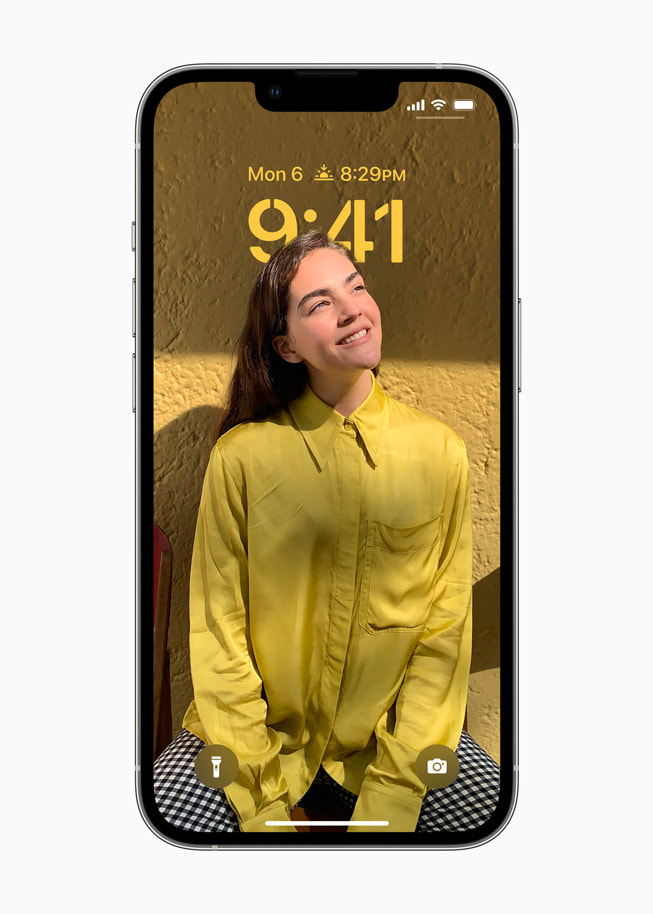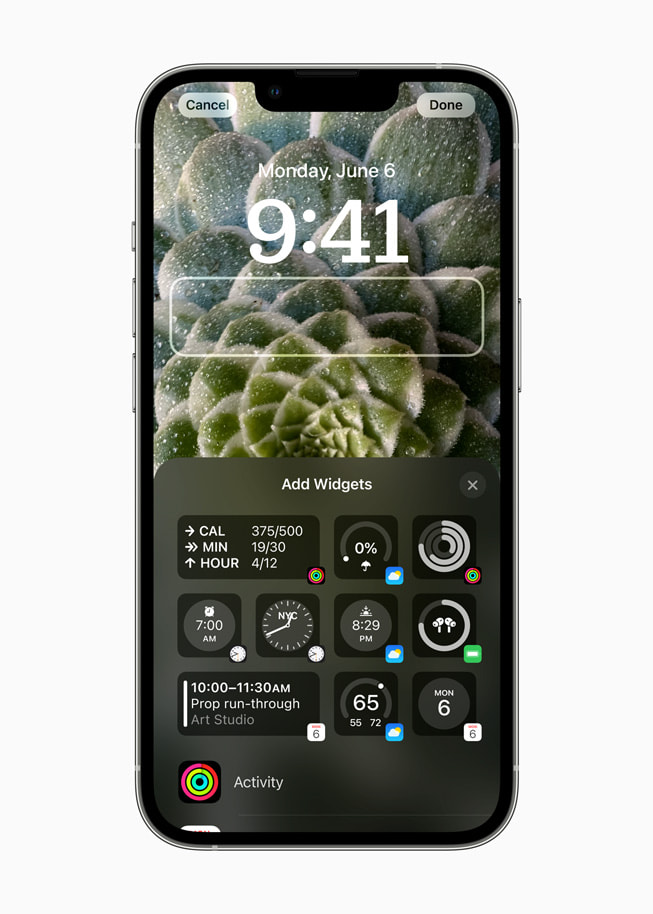 A new Lock Screen gallery features a range of options for inspiration, such as Apple collections, which include Pride and Unity to celebrate special cultural moments; a Weather wallpaper to see live weather conditions as they change throughout the day; and an Astronomy wallpaper for views of the Earth, moon, and solar system. Users can also create Lock Screens using their favourite emoji or colour combinations. With multiple Lock Screens, users can switch between their favourites with just a swipe.
iPadOS 16
iPadOS 16, a major update that makes the iPad experience even more versatile. Taking advantage of the power of the M1 chip, Stage Manager brings a new way to multitask with multiple overlapping windows and full external display support. Collaboration is easier than ever with new ways to start working with others in apps across the system using Messages, and the new Freeform app provides a flexible canvas to brainstorm on together. New tools in Mail help users be more productive, Safari adds shared Tab Groups to browse the web with others, and the browsing experience gets even more secure with passkeys. The new Weather app takes full advantage of the stunning iPad display, and Live Text now interacts with text in video. New pro features — including Reference Mode and Display Zoom — make iPad an even more powerful mobile studio. Combined with the power of Apple silicon, iPadOS 16 makes it faster and easier to get more done on iPad.
"iPad is our most versatile device, and we're excited to take what it can do even further with iPadOS 16," said Craig Federighi, Apple's senior vice president of Software Engineering. "With Stage Manager, which takes multitasking on iPad to a whole new level, plus new ways to share and collaborate via Messages, Safari, and the new Freeform app, and new pro features like Reference Mode and Display Zoom, users can get even more done on iPad."
New Ways to Share and Connect in Messages
New features in Messages make it easy to start collaborating and manage shared content across Files, Keynote, Numbers, Pages, Notes, Reminders, and Safari, as well as third-party apps. When users send an invitation to collaborate via Messages, everyone on the thread is automatically added to the document, spreadsheet, or project. When someone makes a change to a shared file, everyone can see updates right at the top of the Messages thread. And when a user is working on a collaborative project, they can easily jump into the associated Messages conversation or just tap to start a FaceTime call with their collaborators.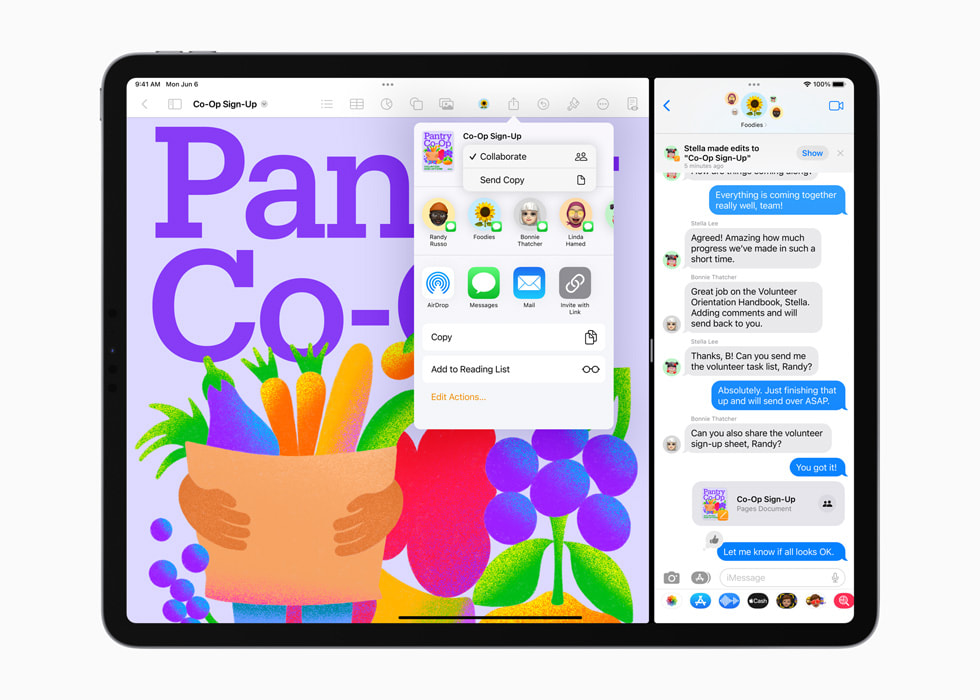 iPadOS 16 makes everyday messaging even better. Users can now edit or recall recently sent messages, recover recently deleted messages, and mark conversations as unread so they can come back to them later.1 Additionally, users can now begin a SharePlay session via Messages, so they can choose a shared activity — like a movie, TV show, workout, or game — and enjoy it together in sync while chatting via Messages.
A Real-Time Collaboration Space Using Freeform
Freeform, a powerful new collaboration app with a flexible canvas, gives users the ability to see, share, and collaborate all in one place without worrying about layouts and page sizes, and with full support for Apple Pencil. Users can view others' contributions as they add content or make edits, all while enjoying a real-time collaboration space. Coming to iPadOS 16 later this year, Freeform allows collaborators to start a session from FaceTime and see the updates from others right in the Messages thread.
Pause playback of video: Freeform Collaboration App
With full support for Apple Pencil, Freeform gives users the ability to see, share, and collaborate in real time on a flexible canvas.
Mail Introduces New Smart Tools
Being more productive is easier than ever with new tools introduced in Mail. Users are given a moment to cancel delivery of a message before it reaches a recipient's inbox,2 schedule emails to be sent at the perfect moment, and move sent emails to the top of their inbox to quickly send a follow-up. Messages can also be resurfaced at any date and time with Remind Later, and users can get notified if they forget to include an important part of the message, like an attachment or recipient. Additionally, an all-new search experience delivers more complete and accurate results by correcting typos and using synonyms for the search terms, and allows users to see a richer view of contacts, shared content, and more.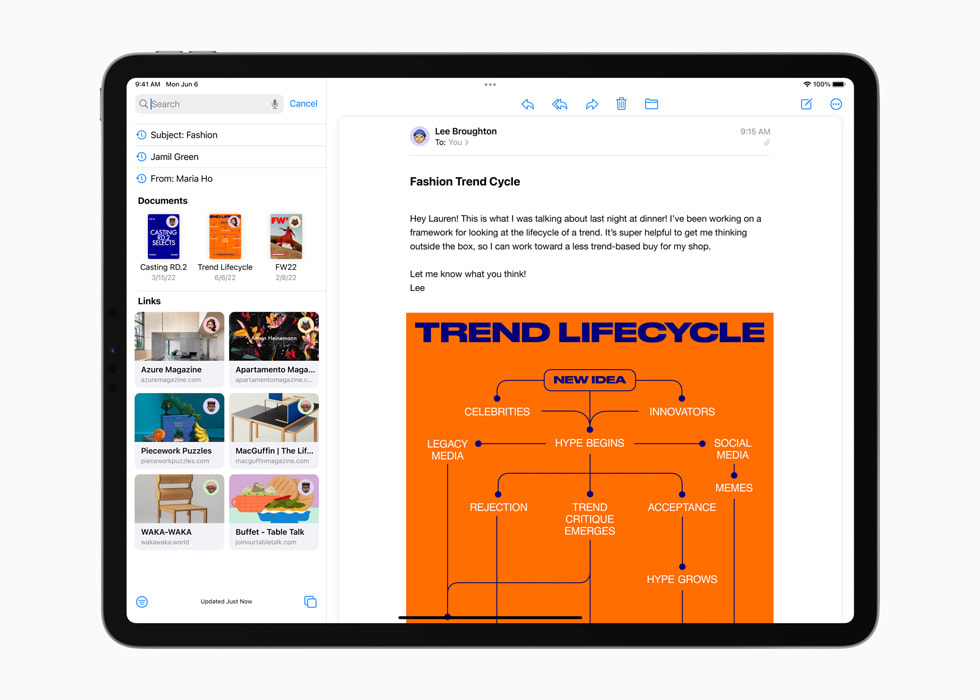 Relive Memories with the New iCloud Shared Photo Library
iCloud Shared Photo Library is the easiest way to share photos seamlessly and automatically among up to six family members, so everyone can collaborate and enjoy the collection in Memories, Featured Photos, and the Photos widget. Users can share all their past photos, or use setup tools to contribute specific photos based on a start date or people in the photos. Photos can be added to the collection manually, or through Bluetooth proximity or sharing suggestions in For You. When anyone in the Shared Library adds, edits, or deletes photos, the library is updated for everyone.
macOS ventura
macOS Ventura, the latest version of the world's most advanced desktop operating system, which takes the Mac experience to a whole new level. Stage Manager gives Mac users an all-new way to stay focused on the task in front of them while seamlessly switching between apps and windows. Continuity Camera uses iPhone as the webcam on Mac to do things that were never possible before,1 and with Handoff coming to FaceTime, users can start a FaceTime call on their iPhone or iPad and fluidly pass it over to their Mac. Mail and Messages come with great new features that make the apps better than ever, while Safari — the world's fastest browser on Mac2 — ushers in a passwordless future with passkeys. And with the power and popularity of Apple silicon, and new developer tools in Metal 3, gaming on Mac has never been better.
"macOS Ventura includes powerful features and new innovations that help make the Mac experience even better. New tools like Stage Manager make focusing on tasks and moving between apps and windows easier and faster than ever, and Continuity Camera brings new videoconferencing features to any Mac, including Desk View, Studio Light, and more," said Craig Federighi, Apple's senior vice president of Software Engineering. "With helpful new features in Messages, state-of-the-art search technologies in Mail, and an updated design for Spotlight, Ventura has so much to offer and enriches many of the ways customers use their Macs."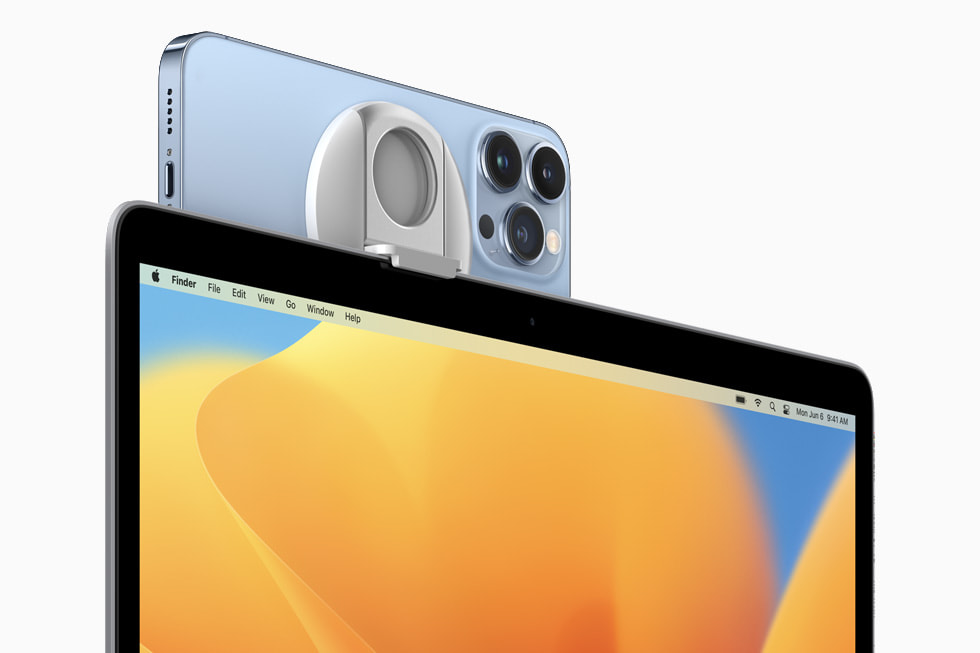 A New Way to Work Across Apps and Windows
Stage Manager automatically organises open apps and windows so users can concentrate on their work and still see everything in a single glance. The current window users are working in is displayed prominently in the centre, and other open windows appear on the left-hand side so they can quickly and easily switch between tasks. Users can also group windows together when working on specific tasks or projects that require different apps. Stage Manager works in concert with other macOS windowing tools — including Mission Control and Spaces — and users can now easily get to their desktop with a single click.
Pause playback of video: Stage Manager in macOS Ventura
Stage Manager automatically arranges open windows and puts the app the user is currently working with front and centre.
Apple Devices Working Together with Continuity
Continuity Camera now gives Mac customers the ability to use their iPhone as a webcam, and unlocks new capabilities that were never possible before on a webcam. With the power of Continuity, Mac can automatically recognise and use the camera on iPhone when it is nearby — without the need to wake or select it — and iPhone can even connect to Mac wirelessly for greater flexibility.3 Continuity Camera delivers innovative features to all Mac computers including Centre Stage, Portrait mode, and the new Studio Light — an effect that beautifully illuminates a user's face while dimming the background. Plus, Continuity Camera taps into the Ultra Wide camera on iPhone to enable Desk View, which simultaneously shows the user's face and an overhead view of their desk — great for creating DIY videos, showing off sketches over FaceTime, and so much more.4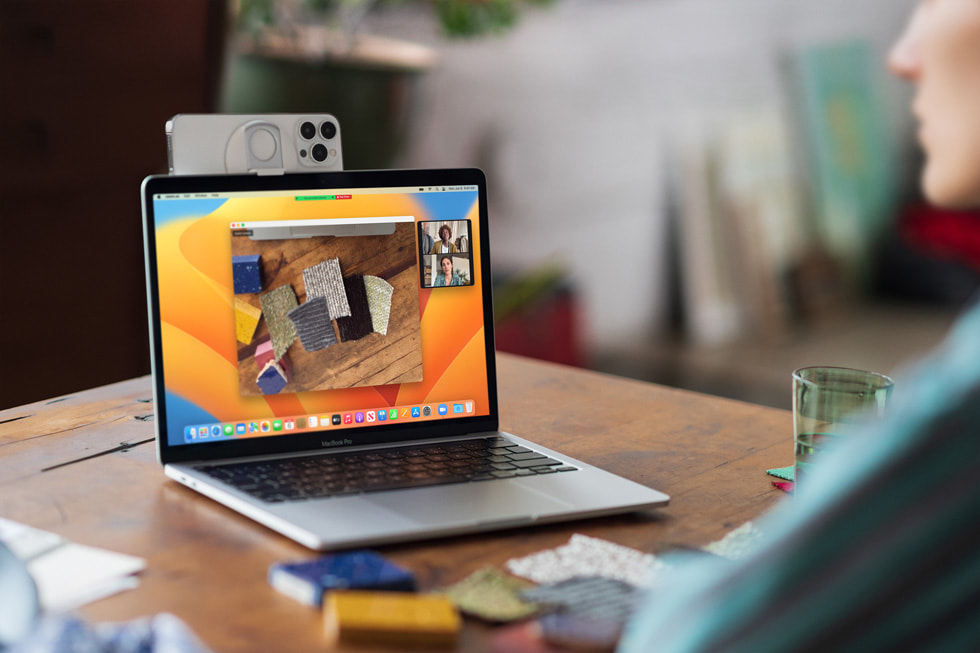 Handoff now comes to FaceTime, allowing users to start a FaceTime call on one Apple device and seamlessly transfer it to another Apple device nearby. Users can be on a FaceTime call on iPhone or iPad, then move the call to their Mac with just a click, or start a call on their Mac and shift to iPhone or iPad when they need to continue on the go.
WatchOS 9
watchOS 9, which brings new features and enhanced experiences to the world's leading wearable operating system. Apple Watch users will now have more watch faces to choose from, with richer complications that provide more information and opportunity for personalisation. In the updated Workout app, advanced metrics, views, and training experiences inspired by high-performing athletes help users take their workouts to the next level. watchOS 9 brings sleep stages to the Sleep app, and a new FDA-cleared AFib History feature provides deeper insights into a user's condition. The new Medications app makes it easy for users to conveniently and discreetly manage, understand, and track medications.
"Users around the world love Apple Watch for helping them stay connected to those they love, be more active throughout the day, and better manage their health," said Jeff Williams, Apple's chief operating officer. "This fall, watchOS 9 takes the Apple Watch experience to the next level with scientifically validated insights across fitness, sleep, and heart health, while providing users more creative ways to make their Apple Watch their own."
Watch Faces for Everyone
The Apple Watch experience starts with watch faces, which give users the opportunity to express personal style while connecting them to relevant information at a glance through complications. watchOS 9 introduces four new faces: Lunar, which depicts the relationship between the Gregorian calendar and lunar calendar, used in many cultures such as Chinese, Islamic, and Hebrew; Playtime, a dynamic piece of art that's unique to Apple Watch and created in collaboration with artist Joi Fulton; Metropolitan, a classic, type-driven watch face where the style changes as the Digital Crown is rotated; and Astronomy, an original face that has been completely remastered and features a new star map and current cloud data.
watchOS 9 introduces enhanced and modernised complications on some of the most classic watch faces, such as Utility, Simple, and Activity Analog, along with background colour editing for Modular, Modular Compact, and X-Large for additional personalisation. The new Portraits face showcases the depth effect on more photos, including cats, dogs, and landscapes, while Chinese scripts have been added as options for California and Typograph watch faces. Focus now allows users to select an Apple Watch face to automatically appear when they start a specific Focus on iPhone, such as the Photos face during a Personal Focus, helping users stay in the moment.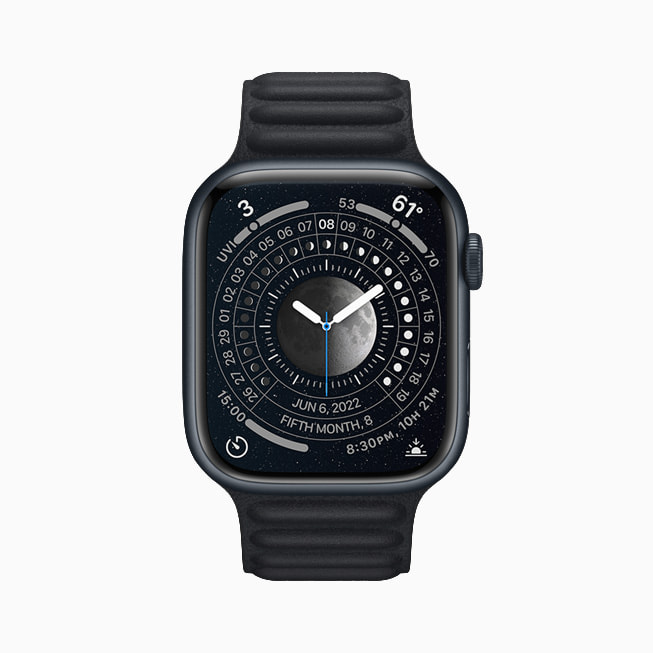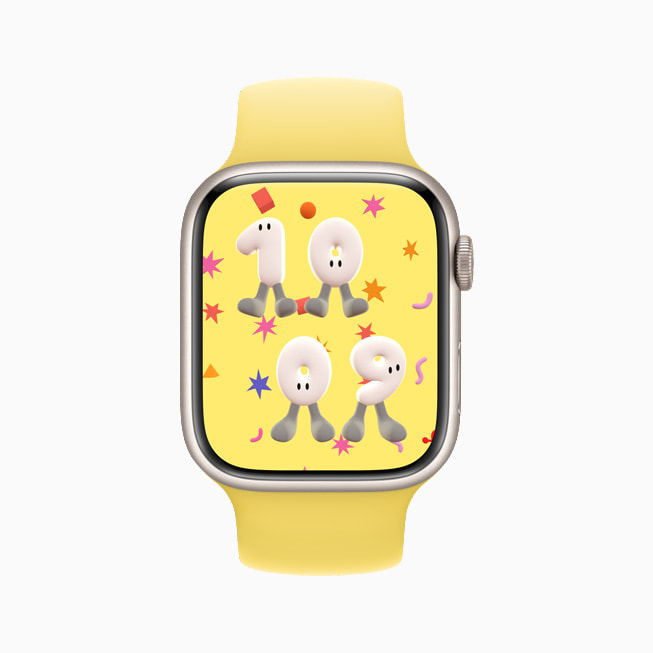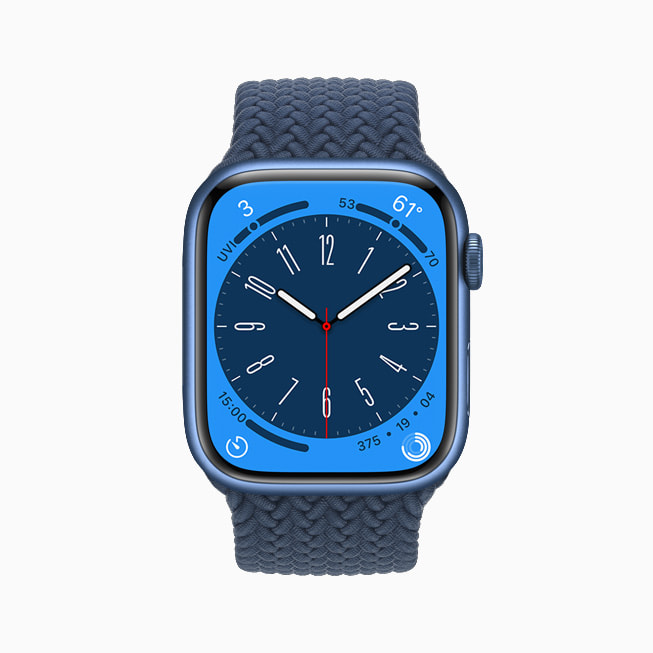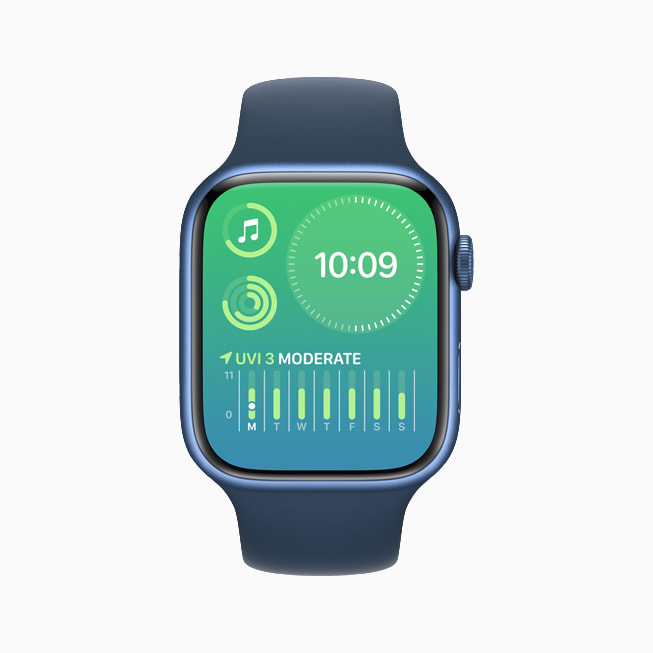 Workout App Updates
The Workout app, one of the most popular apps on Apple Watch, has been updated to provide richer metrics for measuring performance, as well as new training experiences to help users reach fitness goals. The familiar in-session display now uses the Digital Crown to rotate between easy-to-read Workout Views, so users can see important metrics for different training styles. Heart Rate Zones, which can be manually created or automatically calculated using personalised Health data, can be used to monitor the intensity of a workout. Interval training is an important part of any training plan, and in watchOS 9, the Workout app introduces Custom Workouts, which can be used to create a structured workout that can include work and rest intervals. New alerts, including pace, power, heart rate, and cadence, can be added to guide users throughout the workout.