Are you ready for some PCIe 4.0 action soon? Maximise it's performance with the upcoming AMD X570 motherboard for utmost access speed of up to 5000 MB/s for read and 4400 MB/s for sequential write.
We will be giving this beast a run real soon. Stay tuned and LIKE our FACEBOOK PAGE for real time updates.
World First PCIe 4.0×4 ControllerThe World First PCIe 4.0×4 Controller, Phison PS5016-E16 controller, made by 28nm manufacturing technology. The advanced fabrication process ensures PS5016-E16 has enough compute power for ECC processing when adopting the latest 3D TLC NAND flash. PS5016-E16 also features eight NAND channels with 32 CE targets, DDR4 DRAM caching, and a PCIe 4.0×4 interface. As for features, the chip supports the NVMe 1.3 protocol, LDPC error correction, and Wear Leveling, Over-Provision technologies to improve reliability and durability of SSDs.
Form Factor: M.2 2280
Interface: PCI-Express 4.0×4, NVMe 1.3
Total Capacity: 2000GB*
Sequential Read Speed : up to 5000 MB/s**
Sequential Write speed : up to 4400 MB/s**
Wear Leveling, Over-Provision technologies
TRIM & S.M.A.R.T supported
Fully Body Copper Heat Spreader
Warranty: Limited 5-years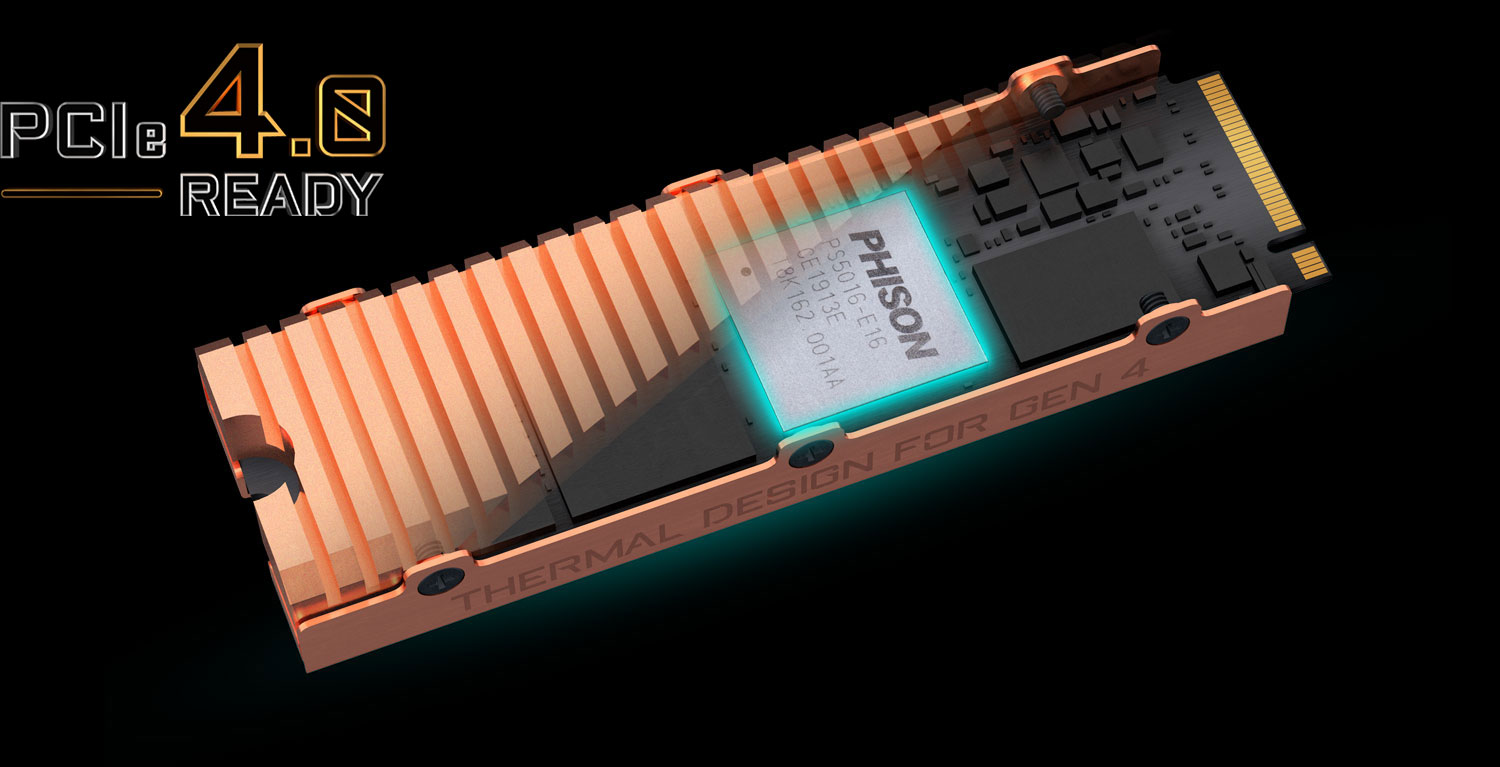 PCIe 4.0×4, NVMe 1.3 Interface
DDR4 DRAM cache
8 CH with 32 CEs
Phison 4th Gen LDPC & RAID ECC
Support Pyrite
Heat spreader for controller