These new Crucial 4GB UDIMM DDR3 modules were announced recently and each module has 4GB per module instead of the so far usual 2GB per module.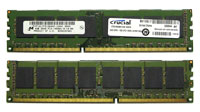 This capacity makes an enormously high memory upgrade possible for current High-End systems, because with e.g. 4x 4 GB modules it is possible to reach gigantic 16GB DDR3 RAM. This is fantastic for developer of 3D animations and graphic designer, but also for all other power users with a 64 bit operating system.
Two of these new Crucial PC3-10600 4GB UDIMM modules were tested as 8GB Dual Channel DDR3 kit in an AMD socket AM3 system, compared with some other RAM kits and overclocked to the maximum limit.
http://www.ocinside.de/html/results/crucial_8gb_pc3_10600.html