In an attempt to lure back customers from the 4G data war, MVNO Circles.Life now upgrades it's base plan to 20 GB for S$28/mth with 100 minutes of outgoing calls, Free caller ID, Unlimited WhatsApp and Pay as you go SMS. Add S$2 for free incoming calls. 
The good news is that existing users who signed up during the $28 for 12 GB promotion were surprised that their data plan now shows a data of 32 GB.  This seems to be a technical glitch but it is somewhat a bonus for existing users to get a free 20 GB for this month only. According to Circles.Life expert, all users new or old will be reset to a base plan of 20 GB  from next month. 
If you are an existing customer before the increase their base plan to 20 GB, enjoy that extra 20 GB for this month.
Older customers should see an increase
Base plan 3 GB + 20 GB = 23 GB
Base plan 6 GB + 20 GB = 26 GB
Base plan 12 GB + 20 GB = 32 GB
With 20 GB for S$28 / mth, Circles.Life has the killer plan which you pay S$18 / mth  when you port in your number from another telco.
You can use our referral code QWBPN during sign up.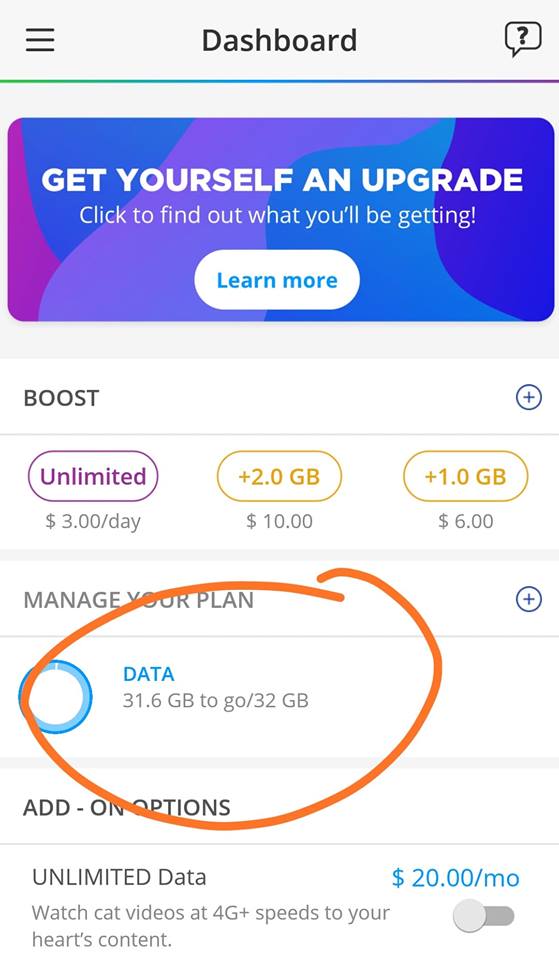 T&C
Just transfer your number to Circles.Life during your signup. You'll be automatically eligible for the cashback when your number is successfully transferred. No promo code needed!
A unique redemption code will be sent to eligible customers if they have successfully transferred their number. You can expect to receive an email with your promo to redeem this cashback in the same month that you have successfully transferred your number
If your number transfer has failed, please note that you will not be eligible for this cashback
This unique redemption code will need to be applied in the Bonus menu of the Circles.Life app to redeem the cashback (in the form of monthly bill credits).the form of monthly bill credits). 
This cashback will be added to your monthly bills as a $10 bill credit over a period of 6-12 months. Cashback cannot be claimed upfront.
Promo Code: A promo code is not needed during your signup! You will automatically receive a redemption code for the cashback if you successfully transfer your number during the promo period.
Eligibility: This cashback is only available for new signups ($28 /mo Base Plan or $65 /mo +Phone Plan) for new signups who signed-up, initiated and successfully transferred their number during the promotion period.
This is not available for $0 /mo Flexi Plan signups.